Shovel Knight (Wii U & 3DS) Review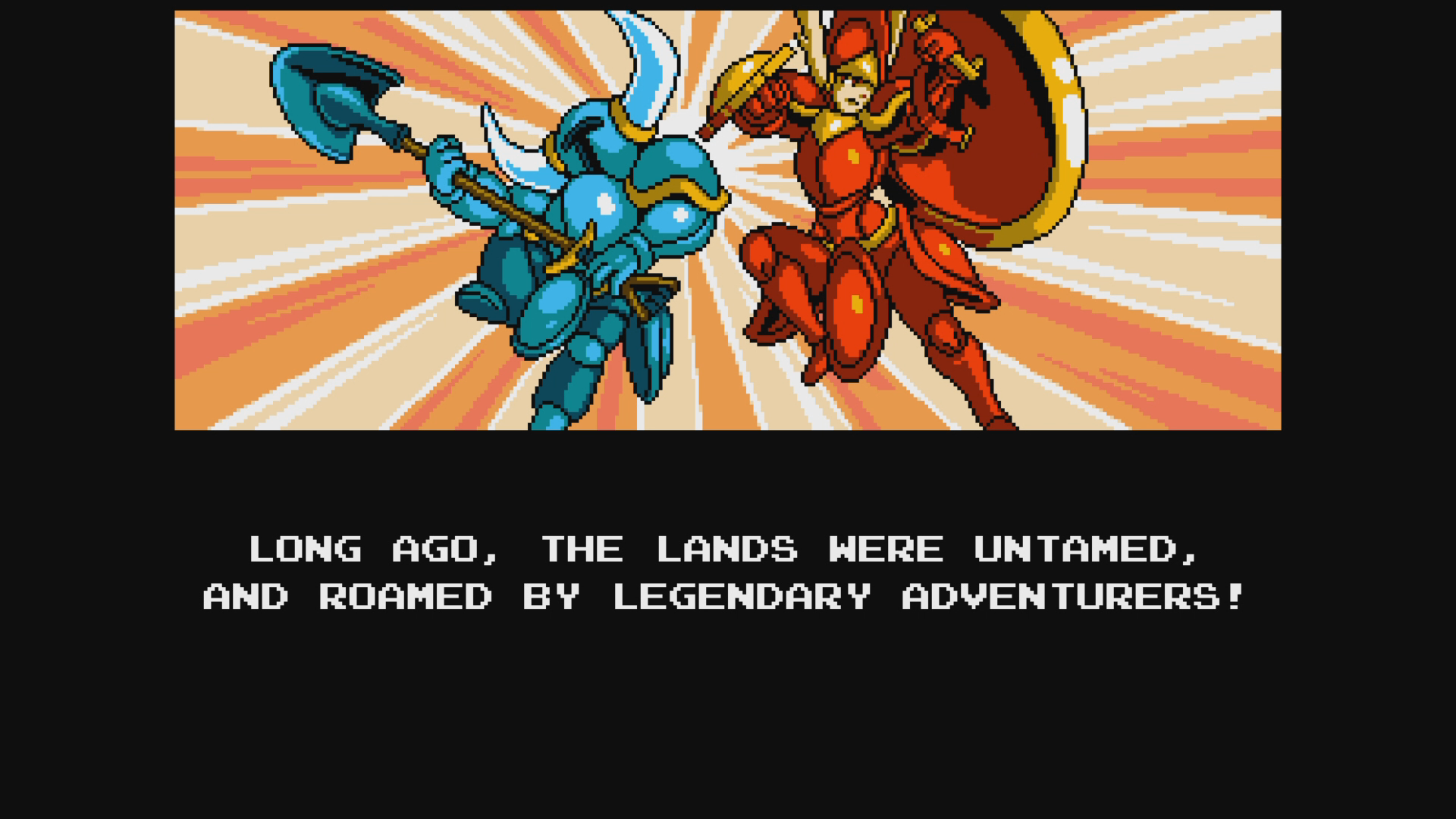 While more of the bigger game companies are constantly chasing this "Next Gen" mentallity, Indy Developers such as Yacht Club seem to be taking a different approach. Their game Shovel Knight is an old school inspired adventure platform game for both the Nintendo Wii U & Nintendo 3DS. A homage to the retro era of gaming that throws in game styles all of classic NES games such as Mega Man, Duck Tales, Zelda II : Links Adventure, Ninja Gaiden, Castlevania, and so many more!  
Shovel Knight while drawing inspiration from great titles that you can instantly recognize (If you grew and or are familiar with said titles) is not what makes Shovel Knight a great game. It is own game with its own art style, soundtrack, and plot. It is not just some sort of half way inspired rip off just trying to cash in on the retro crowd. As soon as you hit start your introduced to the old school input select screen. As the game starts we are introduced to Shovel Knight's story revolving around that your partner Shield Knight are seperated and all hell is breaking loose as the main villan simply known as the Enchantress takes over your kingdom with her band of eight devious knights known as Order of No Quarter. Similar to that of Mega Man with its Robot Masters, each knight has his own themed stage and set of attacks and patterns.   The gameplay is simple with is control scheme of move, jump, and attack. The gameplay is fluid and responsive. Shovel Knight wields well…A Shovel, the implement can bash enemies with a quick slash or pull a Scrooge McDuck pogo-like attack just like in Duck Tales. Not only is it your weapon but it is also a tool that you can use to dig up treasure, or destroy certain obstacles in your way.  After the initial introductory level your introduced to the map that just screams Super Mario 3. You move around the map and defeat each boss such as Specter Knight, Lich Knight, and even a King Knight at the tile they reside on to progress.  Just like in Super Mario 3 to break up the monogamy of just clearing the board you will even cross paths with enemies similar to that of the Hammer and Boomerang Bros.
As you progress  through the game and gather loot you can backtrack to the villages to purchase useful upgrades that can upgrade your handy dandy shovel with extra attacks or even have it pulse of energy, not only can you upgrade your weapon but your health & magic bars along with even your Armor. This is where Shovel Knight adds a bit of strategy into the game. While gathering loot in the game is extremely easy because pretty much every enemy level with hidden cavern your explore or encounter are full of valuables. However what you choose to spend your loot on is very important in the game because you never know if a certain sub weapon you can acquire similar to that of Castlevania  needs to be upgraded or purchased from that random merchant that may pop up on that particular board. It can possibly make a difference in the games more difficult sections.
The stages are designed just like in the style of Mega Man where each level has a different theme and enemies, while the main focus really isn't on how many enemies can be killed it takes the approach of more the platforming aspect with more difficult feats to overcome. While the game is in the style retro gameplay of it seems like you only have one chance to go through the level, this is not the case. There check points set throughout the different levels, Trust me the first play through of this game you will die quite often and get hurt. This is where it differs from the more retro approach and when you die your penalized losing your loot and then can regenerate from one of the check points and go back and collect some of the loot that you had previously lost. However to add more of an element of strategy and possibly to make it even tougher, you can destroy said check points and be rewarded with a substantial amount of loot. Leaving you with the question of to destroy or not to destroy.
Shovel Knight is one of my favorite games so far in 2014. It's a shining example of the Retro Old school NES games that not many of the newer generations of gamer have gotten to play yet. It's not only appealing to Retro gamer but it forms its own game that can be an easy pick up and play. If this wasn't enough though you can play with the New Game+ mode just like in The Legend of Zelda. It not only is a beautiful game that plays amazing but it also sounds great as well! It not only reminds of those old school 8 bit games with that really signified creativity and really setting the mood without having all the modern frills of a full orchestra arraignment, but reminds me of the music styling of my friend Reggie (Rolento13) who really showed me the meaning of game music of this style. The game will roughly last you about 8 hrs but it definetely worth it with the backtracking, upgrading and exploring that can be done. What also makes it great is it adds the element of strategy and really making you memorize the movements of your opponents instead of this run in guns a blazing tactic that seems to be the somewhat norm. I really do hope that more Indy Developers like Yacht Club can really put the screws to some of these bigger game company's to show that you don't need a million dollar budget to make an amazing game.
 I rate Shovel Knight an 4 out of 5. For its amazing Gameplay, Retro Style, Soundtrack and replay ability.
Check out my friend Reggie's Music site for that memorable old school retro feel @ ReginaldLSeayJr.com